About Raheja Versova Island
PLEASURE OF AN ISLAND. CONVENIENCE OF THE CITY
The luxurious community of Raheja Versova Island on Madh Island is a destination unto itself, standing tall against the background of Arabian seas. A location that redefines a way of life, minutes from the rest of the city, but in another universe of serenity and calm. Ocean City's luxury houses, facilities, and services place it among the greatest in the world. Like the people that call it home.
INCOMPARABLE QUIETNESS AND EASY CONNECTION
Raheja Versova Island Linkage
5 Minutes via operating ferry service from Versova
25 Minutes via car separate Mindspace and Malad (W).
The proposed Coastal Road would bring South Mumbai considerably closer.
CLOSER THAN YOU THOUGHT
Within the city but across the water, Madh remains one of Mumbai's most popular retreats.
It is readily accessible by car, and the operating boat to Versova just takes a few minutes. A mix of surf and city predominates, balancing the excitement of the fast life with the tranquilly of the beach.
Welcome to Raheja Versova Island
Raheja Versova Island in MADH ISLAND is a new sea-facing property by Raheja Universal at Versova, Andheri west. MADH ISLAND is the location of Raheja Universal's Raheja Versova Island. Raheja Versova Island is situated on more than 32 acres and offers premium 1 BHK, 2 BHK, 3 BHK, and 4 BHK apartments.
The Raheja Versova Island would include world-class facilities and all essential conveniences Raheja Versova Island is designed to offer inhabitants with a pleasant living environment and is built on contemporary architecture that gives the impression of a rich lifestyle. Raheja Versova Island is delivering facilities like Gymnasium. Keeping in mind the needs of our consumers, Raheja Versova Island by Raheja Universal is well-designed and situated in a desirable area.
Raheja Versova Island will comprise of only high-quality structures. In Raheja Versova Island the richly decorated interiors and elegant exterior of the property catch your attention. The flats are intricately designed from the floor plan to the ceiling. Raheja Versova Island by Raheja Universal is constructed with world-class, life-improving items. Wide open spaces on Raheja Versova Island let calming breezes to penetrate your houses and lifestyles in peace and harmony.
Raheja Versova Island is a great comfort zone for inhabitants to live in harmony and tranquilly as it is situated in the midst of the most gorgeous setting and has a pleasant wind that flows through each room in this under construction project near Versova, Andheri West.
Raheja Versova Island - Unwind on your own sun porch, take a dip in the huge swimming pool, or participate in clubhouse activities. Ocean City offers every luxury imaginable, regardless of what your heart desires.
Games Room
Convenience Store
Multi-Purpose Hall
Café Laguna
Tennis Court
Gymnasium
Av Room
Spa
Laguna Pool
Kids' Pool
Kid's Playground
Conference Space
Stadium Amphitheater
Arena Banquets
Pavilion
Pavilion Gardens
Open Air Jacuzzi
Sitting Zone
Court tennis
Multifunctional Court
---
About Raheja Universal
With a distinguished history spanning over four decades, Raheja Universal has led and completed over fifty notable projects in India.
As its local impact has grown, Raheja Universal is no longer merely a developer; since 1986, it has been a herald of change and the extraordinary.
With each project supported by extraordinary insight and creativity, Raheja Universal dominates the real estate industry, meeting the demands of a new generation today.
Through its initiatives, Raheja Universal has purchased the most valuable real estate of all, based on an in-depth analysis of the regions' appreciation potential and design improvements.
Trust. Holding the ambition to be acknowledged as a thought leader in the real estate sector and by customers for generating world-class real estate assets, the march continues with unrelenting efforts to establish new standards of excellence every day.
---
Raheja Versova Island Project Configuration
Raheja Exotica Siena
Unit Typology (BHK)
Area
Price
1 Bed-Suite
349 sq.ft.
₹ 79.99 Lacs* Price Break-up
2 BHK
640 sq.ft.
₹ 1.55 Cr.* Price Break-up
Siena - MahaRERA Registration No. P51800046921.
For more information, please visit maharera.mahaonline.gov.in
Raheja Exotica Verona (Sea View Apartments)
Unit Typology (BHK)
Area
Price
2 Bed-Suite
901 sq.ft.
₹ 2.25 Cr.* Price Break-up
3 Bed-Suite
1527 sq.ft.
₹ 3.70 Cr.* Price Break-up
4 Bed-Suite
2006 sq.ft.
₹ 5.03 Cr.* Price Break-up
Verona - MahaRERA Registration No. P51800017918.
For more information, please visit maharera.mahaonline.gov.in
Raheja Exotica Cyprus (New Launch)
Unit Typology (BHK)
Area
Price
2 Bed Sea View
897 sq.ft.
₹ 1.99 Cr.* Price Break-up
3 Bed Sea View
1468 sq.ft.
₹ 3.19 Cr.* Price Break-up
4 Bed Sea View
1904 sq.ft.
₹ 4.14 Cr.* Price Break-up
Cyprus - MahaRERA Registration No. P51800052646.
For more information, please visit maharera.mahaonline.gov.in
Raheje Exotica Developments
This is a portion of a bigger development. The "Raheja Exotica-Verona" project is funded by HDFC Limited. Raheja Universal Pvt. Ltd. will obtain/provide HDFC Limited's No Objection Certificate for the selling of Flats/Units. Any purchaser in this development must strictly adhere to the terms and conditions of the sale agreement that may be executed between the parties. The furnishings, fittings, and interiors displayed are not typical. The terms and conditions of the Sales Agreement shall take precedence. In the interest of ongoing development and enhancement of the complex, the Developer maintains the right to change, revise, and modify the layout plans without notification or obligation. This Creative/Document/Brochure/Material does not represent an offer or agreement, and any purchases/lease are controlled only by the terms and circumstances of the sales/lease agreement. All images, floor plans, amenities, elevations, specifications, and dimensions are for illustrative purposes only.
---
The sea facing Raheja Exotica Verona and Sienna now called as Raheja Versova Island not only offers an amazing luxury home near Versova and Madh but also a host of other conveniences for you.
Raheja Versova Island comprising of Verona and Sienna offers you some breath taking world class amenities including the following:
MIYAWAKI
Like hiking? Wander around the beautiful Miyawaki Forest.
CELEBRATION
Enjoy life's funny moments
BOWLING
Let your inner child join your kids
ARENA-AMPHITHEATRE
This 10,000-square-foot marvel gives you front-row seats to the biggest concerts and events.
Clubhouse
On 6+ acres, the biggest clubhouse in a residential complex pampers you and lets you enjoy life's varied adventures.
Open-air theatre
At Mumbai's largest open-air theatre, watch your favourite movie beneath the stars with a tub of popcorn. Our stunning open-air cinema immerses you in your favourite movie.
GRAPEVINE
Designed to relax your senses and satisfy your appetite.
REPUTABLE SPA
Spa-day yourself. Massage your muscles, use skincare, and feel lighter and brighter.
KIDS-ONLY
Trampoline
Kinderpool
Playground
Mousehouse
Blocks-to-climb
Spiralnet
JUST BE
Courtyard
Barbeque
Zoo
Starbucks
Room AV
EXTRAVAGANCE
Receptionist
Sculptures
Jacuzzi outside
Putt-putt
Go-karts
Pavilion
Giant chess
HUGE
Courtyard
Barbeque
Zoo
Starbucks
Room AV
SUPERCOMFORT
Nano for ferry, New Link
Drop-off
Charger
Minimarket
CONVENIENCE
Megamart
Shops
Salon
Mega gym
Co-studio
Channels
Chef-inspired restaurant
---
Raheja Exotica Siena Floor Plans
---
Raheja Exotica Verona Floor Plans
---
Location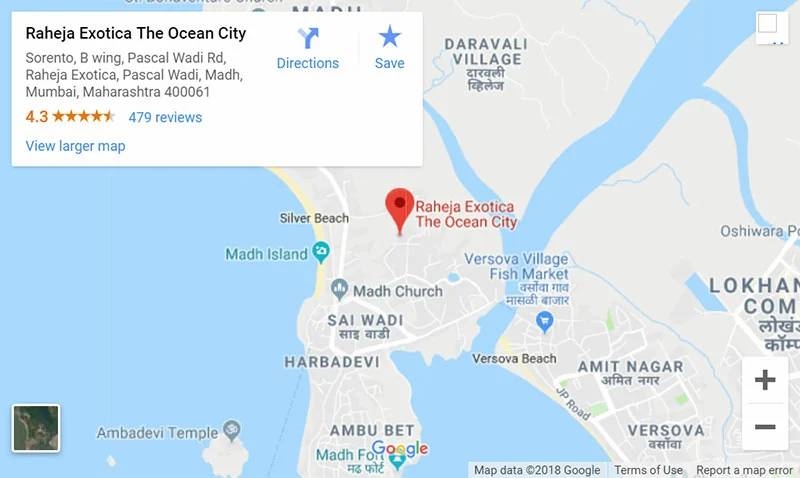 5 Minutes from Versova by operational ferry service.
25 Minutes by road from Mindspace, Malad (W).
Proposed bridge connecting Versova to Madh, reduces the travel time drastically.
Propose Coastal Road will make it much closer from South Mumbai.
---
---
Contact Us
Get an Amazing Deal in Raheja Versova Island.
Disclaimer & privacy policy
This website is meant for information purpose only. It should not be considered / assumed as an official site. This website is owned by an authorized channel partner of Raheja Universal.
This website is only for the purpose of providing information regarding real estate projects in different regions. By accessing this website, the viewer confirms that the information including brochures and marketing collaterals on this website is solely for informational purposes and the viewer has not relied on this information for making any booking/purchase in any project of the company. Nothing on this website constitutes advertising, marketing, booking, selling or an offer for sale, or invitation to purchase a unit in any project by the company. The company is not liable for any consequence of any action taken by the viewer relying on such material/ information on this website.Please also note that the company has not verified the information and the compliances of the projects. Further, the company has not checked the RERA(Real Estate Regulation Act 2016) registration status of the real estate projects listed herein. The company does not make any representation in regards to the compliances done against these projects. You should make yourself aware about the RERA registration status of the listed real estate projects before purchasing property.

Privacy Policy
In our endeavor and commitment of protecting your personal information, we have designed this comprehensive privacy policy. This is to keep your interests and information safe on our website.

Updation of privacy policy
This privacy policy is subject to undergo change and review without any prior notice or approval. So to keep yourself updated on the changes introduced, please keep visiting and reviewing the terms and conditions of this privacy policy.

User information
By using our website, you agree to abide by the rules laid out by us and consent to collection and use of all such information that you may furnish to, or through, our website. In some cases, while you visit our website, you may not need to provide any personal information. But in certain instances, we must have your personal information in order for us to grant you access to some of the links or sites. Such links/ pages may ask for your name, e-mail address, phone number etc. The information furnished by you is used to provide relevant products and services and to acknowledge receipt of your communication or to send out information and updates to you. You have option of requesting removal from our mailing list. We do not give away your personal information to any third party.

Security
To ensure security while transferring sensitive information, all the ongoing transmissions between client and server are encrypted using advanced and standard protocols. We also practice restricted access by employees and hold them to high levels of confidentiality. Use of cookies We may use cookies for security, session continuity, and customization purposes. In case of a user opting to reject a cookie, he/ she may not be able to gain access to some of the limited services or use some features of the site.
View